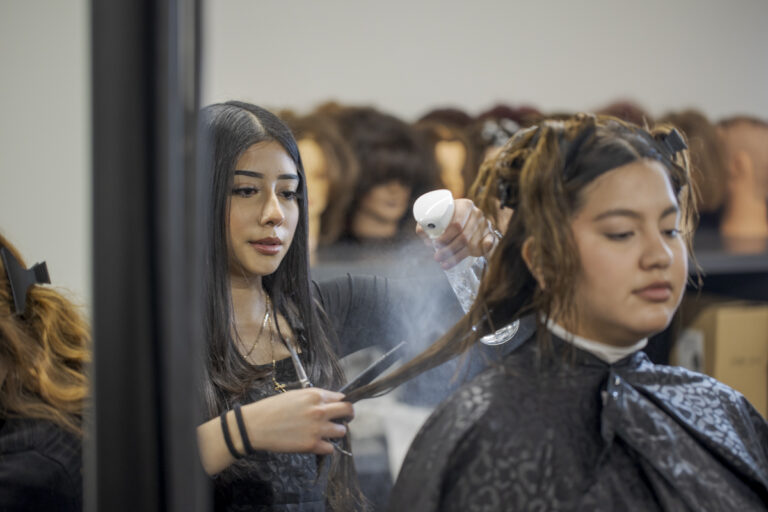 Our Cosmetology program will give you hands-on experience with haircutting, hairstyling, coloring, chemical relaxers, facial treatments, nail services, make-up techniques and more. Our full or part-time program allows you to take classes to better fit your schedule.
Plus, you'll get the chance to practice and gain real-world experience working with clients on-site at Emily's Salon & Barbershop. You'll learn directly from industry experts and guest lecturers.
LEVEL 1:
COS 1003 Introduction to Hair & Scalp
COS 1030 Introduction to Hair Styling
COS 1020 Introduction to Hair Cutting
COS 1010 Introduction to Hair Coloring
COS 1040 Introduction to Chemical Texture
NAT 1010 Introduction to Nail Care
EST 1010 Introduction to Skin Care
COS 1060 Introduction to Infection Control & Prevention
LEVEL 2:
COS 1021 Intermediate I: Hair Cutting
COS 1011 Intermediate I: Hair Coloring
COS 1031 Intermediate I: Hair Styling
COS 1041 Intermediate I: Chemical Texture
COS 2003 Intermediate I: Hair & Scalp
NAT 1011 Intermediate I: Nail Care
EST 1011 Intermediate I: Skin Care
COS 1050 Laws, Rules, & Regulations
COS 2079 Seminar/Workshop
LEVEL 3:
COS 2020 Intermediate II: Hair Cutting
COS 2010 Intermediate II: Hair Coloring
COS 2040 Intermediate II: Chemical Texture
COS 2030 Intermediate II: Hair Styling
NAT 2011 Application of Nail Enhancements
EST 2012 Hair Removal
EST 2011 Makeup for Skin Care Professionals
LEVEL 4:
COS 2021 Advanced Hair Cutting
COS 2011 Advanced Hair Coloring
COS 2031 Advanced Hair Styling
COS 2041 Advanced Chemical Texture
NAT 2010 Advanced Nail Care
EST 2010 Advanced Skin Care
COS 2089 Capstone
COS 2086 Independent Study
COS 2050 Business Management/Personal Skills/Ethics
Approximate Cost: $11,537
(additional materials and book fees may apply)
This program qualifies for Financial Aid.
Full-Time Program Length: 11 months
Part-Time Program Length: 20 months
Fall 2023 Start Dates
Full-Time Program: 11/6/2023
Spring 2024 Start Dates
Full-Time Program: 2/14/2024 and 5/13/2024
Part-Time Program: 1/16/2024 and 5/28/2024
WHAT CAN YOU DO WITH YOUR CERTIFICATE?
Salon Stylist
Salon Owner
Traveling Stylist
Theater/Fashion Stylist
Makeup Artist
Brand Ambassador
Platform Artist
Payment and Student ID:
Confirm payment. For more information regarding payment arrangements, click here.
Get your student ID. You can get your student ID at Treasury or Branch Campus (1205 Osage St.) after payment is confirmed.
Program Structure and Delivery:
The program is offered at our main campus: 1860 Lincoln St., Denver, CO.
The program is delivered in a hybrid format. Meaning some of your instruction, class time, and coursework will be completed at home and some will be done in the classroom/clinic.

Students are expected to be in a learning environment doing coursework for the duration of class time. Students are not allowed to work during scheduled class hours.
Your instructor will inform you of your on-site class hours and provide you with your virtual Google Meet link a week before class starts.

Due to the delivery, this program will require computer use and internet access. If you need assistance obtaining technology, please contact student.success@emilygriffith.edu.
Assignments completed virtually will be done using our learning system, Moodle. You will not be able to access Moodle until you have paid for your classes.

Your login for Moodle and the Student Portal is the same:
Textbooks and Supplies:
Books and kit are included and will be handed out in class. These items are non-returnable.
Be prepared to buy a few small supplies for your state board kit in Level 4 of your program. Your instructor will inform you of what supplies to buy.
Black scrubs are available for purchase from Amazon, Walmart, Crazy Scrubs, etc.
Program Policies and Expectations:
You must follow all school policies for in-person and virtual learning at all times.
The Code of Conduct and other program policies will be reviewed in class.
Attendance:
You are not allowed to miss more than 24 hours of instruction per.

These hours reset at each level of the program.
This includes arriving late and leaving class early.

Missed hours cannot be made-up. You will need to re-enroll in a future cohort.

Enrollment in future cohorts is dependent on pending space and availability.
Dress Code:
Student IDs must be worn at all times while on school property and during any off-campus school activities.
You must wear solid (no prints) black scrubs, both tops and bottoms.
Hair and nails should be kept clean and groomed at all times.
No open-toed shoes (i.e. sandals, flip-flops, shower shoes).
Pants must be worn at the waist (no sagging pants).
Sunglasses are not to be worn during school hours, unless outside.
Odors from smoke, excessive perspiration, perfume, or other sources are not acceptable and will not be tolerated. Odors can be disruptive and even cause physical symptoms to clients and other students.
Students not following the dress code will be asked to change or leave. Being asked to leave will count as missed time.