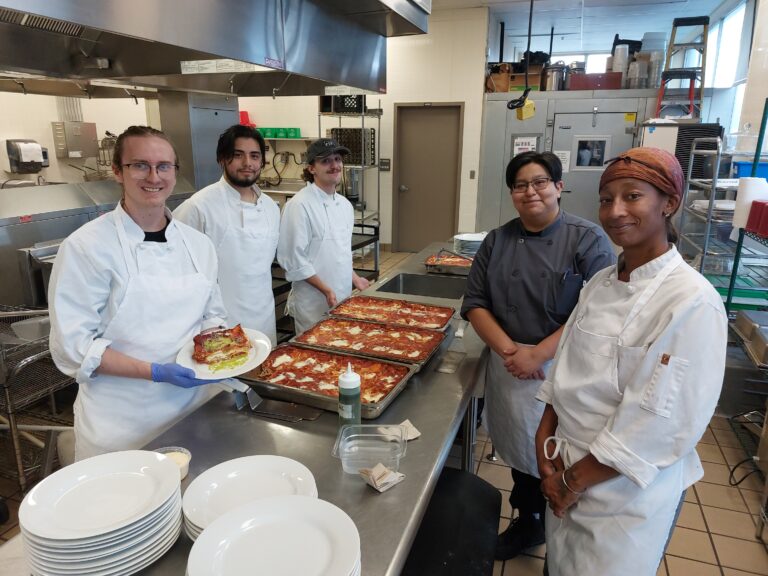 Ranked as one of the Best Culinary Schools in Colorado in 2021, our Culinary Arts program will give you hands-on experience cooking a wide variety of cuisines and dishes. You'll also learn the ins and outs of the restaurant and hospitality industries and how to run your own business or food truck. 
Our program features lectures and demonstrations from experienced chefs. Plus, you'll gain experience with all aspects of the restaurant business through our student-run cafe, Emily's Cafe, where we serve breakfast and lunch three days a week! 
CUA 1001 Food Safety & Sanitation
CUA 1002 Cashiering
CUA 1005 Food Service Concepts & Management Skills
CUA 1025 Introduction to Foods
CUA 1027 Soups, Sauces, & Consommes
CUA 1016 Catering, Buffets, & Tableside Cooking
CUA 1029 Center of the Plate
CUA 1062 Introduction to Cooking Techniques
CUA 2033 Advanced Line Prep & Cookery
CUA 1026 Intermediate Soups and Sauces
CUA 1190 Dining Room Management
CUA 1191 Front of the House Planning
CUA 1057 Menu Planning
CUA 2061 Cost Controls
CUA 2062 Purchasing for the Hospitality Industry
CUA 2081 Internship
(additional materials and book fees may apply)
This program qualifies for Financial Aid.
Full-Time Program Length: 7 months
Part-Time Program Length: 11 months
Spring 2024 Start Dates
Full-Time Program: 2/12/2024, 3/11/2024, and 5/20/2024
Part-Time Program: 4/2/2024
WHERE CAN YOU WORK WITH YOUR CERTIFICATE?
Restaurants
Food Trucks
Resorts
Cruise Ships
Hotels
Catering Companies
Corporate and Institutional Dining
Research, Development and Test Kitchens
Payment and Student ID:
Confirm payment. For more information regarding payment arrangements, click here.
Get your student ID. You can get your student ID at Treasury.
Program Structure and Delivery:
The program is offered at our main campus: 1860 Lincoln St., Denver, CO.
The program is delivered in a hybrid format. Meaning some of your instruction, class time, and coursework will be completed at home and some will be done in the classroom/clinic.

Students are expected to be in a learning environment doing coursework for the duration of class time. Students are not allowed to work during scheduled class hours.
Your instructor will inform you of your on-site class hours and provide you with your virtual Google Meet link a week before class starts.

Due to the delivery, this program will require computer use and internet access. If you need assistance obtaining technology, please contact student.success@emilygriffith.edu.
Assignments completed virtually will be done using our learning system, Moodle. You will not be able to access Moodle until you have paid for your classes.

Your login for Moodle and the Student Portal is the same:
Textbooks and Supplies:
Book, knife kit, and uniform are included and will be handed out in class.
Bring a notebook and pen/pencil every day to take notes
Program Policies and Expectations:
You must follow all school policies for in-person and virtual learning at all times.
An 80% grade is required on all written assignments and tests.
Attendance:
You must have 952.5 hours to complete the culinary program.
A minimum of 90% attendance is required to pass each class.
Missed hours cannot be made-up. You will need to re-enroll in a future cohort.

Enrollment in future cohorts is dependent on pending space and availability.
Dress Code:
Student IDs must be worn at all times while on school property and during any off-campus school activities.
Must-wear clothing provided in kit includes:

Plain cloth Chef Toque (hat): 1 provided.
Standard black double-breasted chef coat: 2 provided.
Houndstooth checked cook's pants: 2 provided.

Black slip-resistant work shoes.
Hair and nails should be kept clean and groomed at all times.