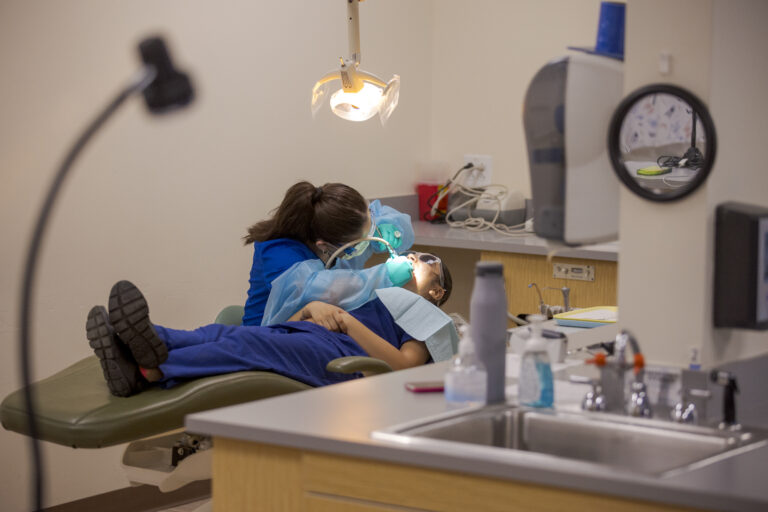 Dental Assistants are the front-line providers in the dental office, working directly with patients and assisting dentists with procedures, as well as performing a variety of laboratory procedures. Our program utilizes both a classroom teaching environment and a 300-hour clinical internship in a real dental environment to help you develop skills in conducting chair-side procedures, radiology and X-rays, patient education, infection control and laboratory work. 
What can you do with your certificate?
Chairside Dental Assistant
Dental Front Office Management
Dental Lab Tech Assistant
Dental Insurance Agent
Dental Supply Representative
DEA 1001 Dental Terminology
DEA 1015 Infection Control
DEA 1016 Medical Emergencies in the Dental Office
DEA 1023 Dental Materials l
DEA 1011 Introduction to Dental Practices
DEA 1021 Principles of Clinical Practice
DEA 1024 Dental Radiography
DEA 1012 Dental Science I
DEA 1033 Dental Materials II
DEA 1031 Prevention and Nutrition in Dentistry
DEA 1013 Dental Science II
DEA 1034 Advanced Dental Radiography
DEA 1035 Dental Office Management
DEA 1022 Specialties in Dentistry
DEA 1081 Internship I: Dental
DEA 1082 Internship II: Dental
(additional materials and book fees may apply)
This program is eligible for Care Forward Colorado – meaning zero-cost to you! Learn more.
Qualified Financial Aid program.
Full & Part Time Options Available
Spring 2024 Start Dates
Part-Time Program: 1/3/2024
ALL applicants are required to submit:
Criminal background check
Drug test
Proof of vaccinations
Click here for a full list of disqualifying offenses.
Applicants must be 18 years or older.
PROGRAM CLINICAL CHECKLIST
ALL items below must be completed.
10-panel drug screening
Tuberculosis screening
Vaccinations
Upload Basic Life Support (BLS) card issued by the American Heart Association
For further requirement details, click each item below.
Student Identification
Confirm payment. For more information regarding payment arrangements, click here.
Get your student ID. You can get your student ID at Treasury.
Complio/American Databank
Sign up for Complio, which is part of American Databank, at emilygriffithtechnicalcollegecompliance.com. 
Click on the button for new users, as displayed below.

After completing the registration, select "Criminal Background Check and Drug Screen," and follow the instructions. 
Government Issued Identification
Submit/Upload a government-issued ID to HSA@emilygriffith.edu. This can be a state-issued driver's license or identity card, social security card, United States passport, or an identification card issued by your country of origin. 
Criminal Background Screening
Request criminal background screening from Complio within 3 months of the first day of class. A background screening that is completed >3 months before the first day of class will not be accepted. Results of the background screening must be available in Complio prior to the first day of class to be accepted. 
The following link outlines disqualifying offenses: http://coloradostateplan.com/educator/health-science/nursing-background-check/
10-Panel Drug Screening
Complete the 10-panel drug screening that is ordered in the Bundle from Complio within 2 weeks prior to the first day of class. A drug screening that is completed >2 weeks before the first day of class will not be accepted. You will not be allowed to begin class without results of a negative drug screening in Complio. Results of the drug screening will automatically be uploaded to the Complio tracking system.
Tuberculosis Screening
TB – Tuberculosis – every year–Skin Test or Negative blood test – QuantiFERON Gold or T-Spot

Students with a history of a positive TB skin test must provide evidence of negative
TB risk assessment every year signed by a medical provider (MD, NP, PA) must include
the following Provider must advise there has been a negative chest x-ray within the past
three years and no evidence of active TB
Vaccine Requirements
MMR – Mumps, Measles, Rubella Evidence of a Two-Dose or evidence of immunity
Hepatitis B – Evidence of a Three-Dose HepB vaccine series or evidence of immunity
TDap – Tetanus, Diphtheria, Pertussis – Evidence of a Single Dose Tdap Every 10 years
Varicella – Evidence of Two-Dose varicella vaccine or evidence of immunity
Influenza – 1-Dose every year
COVID-19 Vaccination – Up-to-date with boosters as recommended by the CDC
Basic Life Support for Healthcare Professionals
Submit/Upload to Complio evidence of a current Basic Life Support (BLS) Card for Healthcare Professionals. This is to show evidence that you have signed up for AND completed a Basic Life Support (BLS) Class for Healthcare Providers. BLS cards must be issued by the American Heart Association. A copy of your scheduled class will NOT be accepted as proof of training. 
Please make sure to keep a copy of all documentation for your own records. Many healthcare facilities will request similar documentation for employment purposes.
If you have any questions about this checklist, please email the Health Sciences Department at HSA@emilygriffith.edu.
Please submit this checklist, along with hard copies of your documentation at 1860 Lincoln Street Room 506, Denver CO 80203 or email a legible scan of documentation to HSA@emilygriffth.edu and include your HSA program in the subject line.