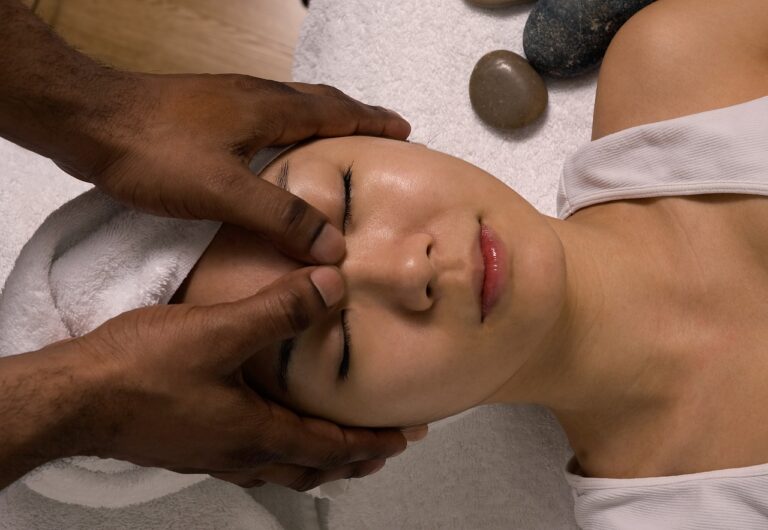 Our Massage Therapy program will give you hands-on experience necessary for a meaningful career as a massage therapist. Our comprehensive curriculum includes anatomy, physiology, pathology, ethics and lifestyle wellness–all important skills needed for a career as a massage therapist. Our program is now a part-time afternoon or evening program, so you can fit classes into your schedule. 
Learn advanced massage techniques including prenatal massage, cupping, and hot stone massage. You'll also have the opportunity to participate in workshops with massage professionals and attend a variety of field trips, including a human cadaver lab! Then you can practice your massage skills on actual clients at the student-run Emily's Massage Clinic.
MST 1005 Lifestyle Wellness
MST 1006 A & P for Massage Therapy
MST 2008 Musculoskeletal Anatomy
MST 1010 Ethics for Massage Therapy
MST 1011 Basic Massage Therapy
MST 1013 Professional Massage
MST 2004 MST Business Practices
MST 2016 Pathology for Massage Therapy
MST 1084 Clinical Massage
MST 2089 Capstone
(additional materials and book fees may apply)
This program qualifies for Financial Aid.
Part-Time Program Length: 10 months
Spring 2024 Start Dates
Part-Time Program: 1/3/2024
WHERE CAN YOU WORK WITH YOUR CERTIFICATE?
Massage Clinics
Sports Massage
Physical Therapy and Rehabilitation Clinics
Resorts
Casinos
Spas
Payment and Student ID:
Confirm payment. For more information regarding payment arrangements, click here.
Get your student ID. You can get your student ID at Treasury.
Background Check:
Must be completed within 1 month prior to your start date.
Colorado Bureau of Investigation Criminal Background check available at www.CBIrecordscheck.com

Individual cost is $6.85
Email a copy to your instructor one week prior to your program start date
Clean background checks are required by the State of Colorado in order to apply for your license. Visit here for more information.
Program Structure and Delivery:
The program is offered at our main campus: 1860 Lincoln St., Denver, CO.
The program is delivered in a hybrid format. Meaning some of your instruction, class time, and coursework will be completed at home and some will be done in the classroom/clinic.

Students are expected to be in a learning environment doing coursework for the duration of class time. Students are not allowed to work during scheduled class hours.
Your instructor will inform you of your on-site class hours and provide you with your virtual Google Meet link a week before class starts.

Due to the delivery, this program will require computer use and internet access. If you need assistance obtaining technology, please contact student.success@emilygriffith.edu.
Assignments completed virtually will be done using our learning system, Moodle. You will not be able to access Moodle until you have paid for your classes.

Your login for Moodle and the Student Portal is the same:
Textbooks and Supplies:
Required textbooks to be purchased by student (You are required to purchase your books prior to coming to the first day of class. We will begin using our books as early as the first day of class):
Massage Therapy: Principles and Practice, 6th Edition

Author: Salvo
ISBN: 978-0323581288
Trail Guide to the Body, 5th Edition

Author: Biel
ISBN: 978-0982978658
Trail Guide to the Body Workbook, 5th Edition

Author: Biel
ISBN: 978-0982978665

Have supplies such as spiral notebook, pen, pencil ready for virtual classes.
Black polo and Kit are included and will be handed out in class.

Kit includes: a massage holster, a bottle of massage cream, and a massage table.
Program Expectations:
You must follow all school policies for in-person and virtual learning at all times.
Professional behavior is expected at all times in all areas of the College and at clinical sites.
Massage therapy is considered to be a strenuous occupation. You will be standing, moving, and stretching on a daily basis in the program, and it is important to maintain your physical health during the program.
You will be giving and receiving massages with your classmates as part of your hands-on training.
Homework and studying are expected during your program and will vary by course.
Attendance:
You are not allowed to miss more than 16 hours of instruction per level.

These hours reset at each level of the program.

Missed hours cannot be made-up. You will need to re-enroll in a future cohort.

This includes arriving late and leaving class early.
Enrollment in future cohorts is dependent on pending space and availability.
Dress Code:
Student IDs must be worn at all times while on school property and during any off-campus school activities.
Maintain a neat, clean, and well-groomed appearance.
Nails need to be clean, clipped short and filed at all times.

Nail polish is prohibited.

Hair needs to be pulled back and away of the face.
Because of the physical nature of massage therapy, proper attire and grooming are required.
Comfortable, breathable attire is best. Extremely tight-fitting clothes make it difficult to perform massages. Solid-colored scrubs may be worn.
Skirts should reach below the knee when sitting.
Low-cut or revealing shirts, short skirts/shorts will not be permitted at any time.
No Hats.
No Long sleeve tops.
No Jewelry.

Jewelry can interfere with services performed and is not permitted.

No open-toed shoes in the practical room.
Odors from smoke, excessive perspiration, perfume or other sources are not acceptable for a massage therapist and will not be tolerated as a student. Odors can be disruptive and even cause physical symptoms to clients and other students. (Clientele will often call in and request a non-smoking student and most job positions will not tolerate smoking during the workday.)
Animal dander/hair can cause allergic reactions. Keep clothing clean and animal hair-free.
Uniform for Clinic:
Professional casual: Black pants or black scrubs and black Emily Griffith polo shirts.

If you wear black leggings, you must wear a long black shirt to cover the buttocks.
No Hats.
Inappropriately dressed students will be asked to leave and that time will be counted as missed hours.