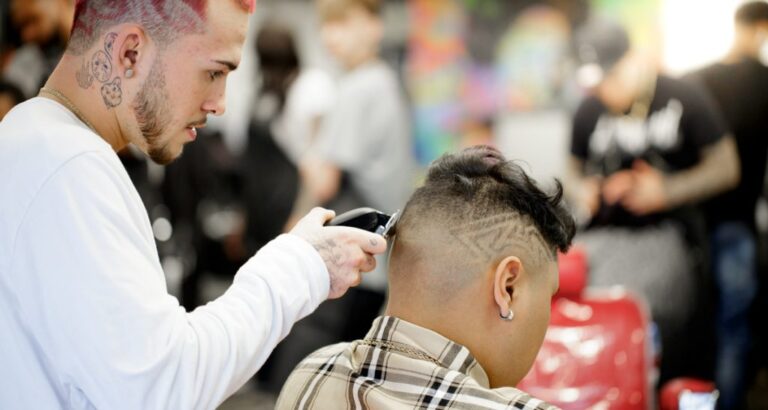 If you are a licensed cosmetologist looking to expand your skills and clientele, consider our Barber Crossover program. 
You'll learn the general principles of shaving with a straight razor to include hair texture, grain of the beard and analysis of the skin along with cutting strokes. You will also learn the specifics of mustache, as well as beard trimming and design. 
State Board preparation is included in the program, so you'll be ready to get your barbering license upon completion! 
(additional materials and book fees may apply)
Part-Time Program Length: 90 hours
The program is part-time so you can expand your skills while continuing to work as a cosmetologist. 
Give us a call at 720-423-4700 to find out when our next available start date is.
To participate in this program, students must have a copy of their current Colorado Cosmetology license. The law as it now requires the Barbering Crossover candidate to hold a valid, current Colorado Cosmetology license. The Hairstyling license cannot be used to add additional specialties as it is limited in its scope of practice. 
Payment and Student ID:
Confirm payment. For more information regarding payment arrangements, click here.
Get your student ID. You can get your student ID at Treasury or Branch Campus (1205 Osage St.) after payment is confirmed.
Program Structure and Delivery:
The program is offered at our Main Campus: 1860 Lincoln St.
The program is delivered in a hybrid format. Meaning some of your instruction, class time, and coursework will be completed at home and some will be done in the classroom/clinic.

Students are expected to be in a learning environment doing coursework for the duration of class time. Students are not allowed to work during scheduled class hours.
Your instructor will inform you of your on-site class hours and provide you with your virtual Google Meet link a week before class starts.

Due to the delivery, this program will require computer use and internet access. If you need assistance obtaining technology, please contact student.success@emilygriffith.edu.
Assignments completed virtually will be done using our learning system, Moodle. You will not be able to access Moodle until you have paid for your classes.

Your login for Moodle and the Student Portal is the same:
Textbooks and Supplies:
A hard copy of Colorado Cosmetology License to be given to the instructor on the first day of class.
Your kit is provided and includes the mannequins, stand, and product.
3-ring binder
Highlighter
Pen or pencil
Headband
Hand sanitizer
Razor
Students will need to provide 2 models for each class starting after the first class.
Textbooks will be provided.

You are responsible for returning those texts at the end of the course or replacing the text if lost or stolen.
Program Policies and Expectations:
You must follow all school policies for in-person and virtual learning at all times.
The Code of Conduct and other program policies will be reviewed in class.
Attendance:
In order to be awarded course credits/hours for licensure, you are not allowed to miss ANY hours of this program.

This includes arriving late and leaving class early.

Missed hours cannot be made-up. You will need to re-enroll in a future cohort.

Enrollment in future cohorts is dependent on pending space and availability.
Dress Code:
Student IDs must be worn at all times while on school property and during any off-campus school activities.
Pants must be worn at the waist (no sagging pants).
Sunglasses are not to be worn during school hours, unless outside.
Odors from smoke, excessive perspiration, perfume, or other sources are not acceptable and will not be tolerated. Odors can be disruptive and even cause physical symptoms to clients and other students.
Students not following the dress code will be asked to change or leave. Being asked to leave will count as missed time.